Bitcoin has begun to consolidate after its explosive breakout on Monday. Over the past 48 hours, the leading cryptocurrency has jumped between $10,800 and $11,300, attempting to establish a short-term range.
Some fear that this is a sign that the market is reaching a top. After all, Bitcoin failed to pass $11,500 in the recent rally while funding rates have reached extremely high levels.
Yet an analyst is convinced that on a macro scale, there's only "air" from here to $20,000. That's to say, Bitcoin rallying to $20,000 in the coming months and years should not be out of realm of possibility.
Bitcoin Is Facing Little Resistance Until $20,000?
Referencing the chart below published on July 29th, a trader in the space remarked that Bitcoin will look extremely healthy on a macro scale if it closes above $10,500 on a monthly scale.
"48 hours until this monthy candle closes. Break in market structure if this monthy candle closes above Feb high (10.5k)."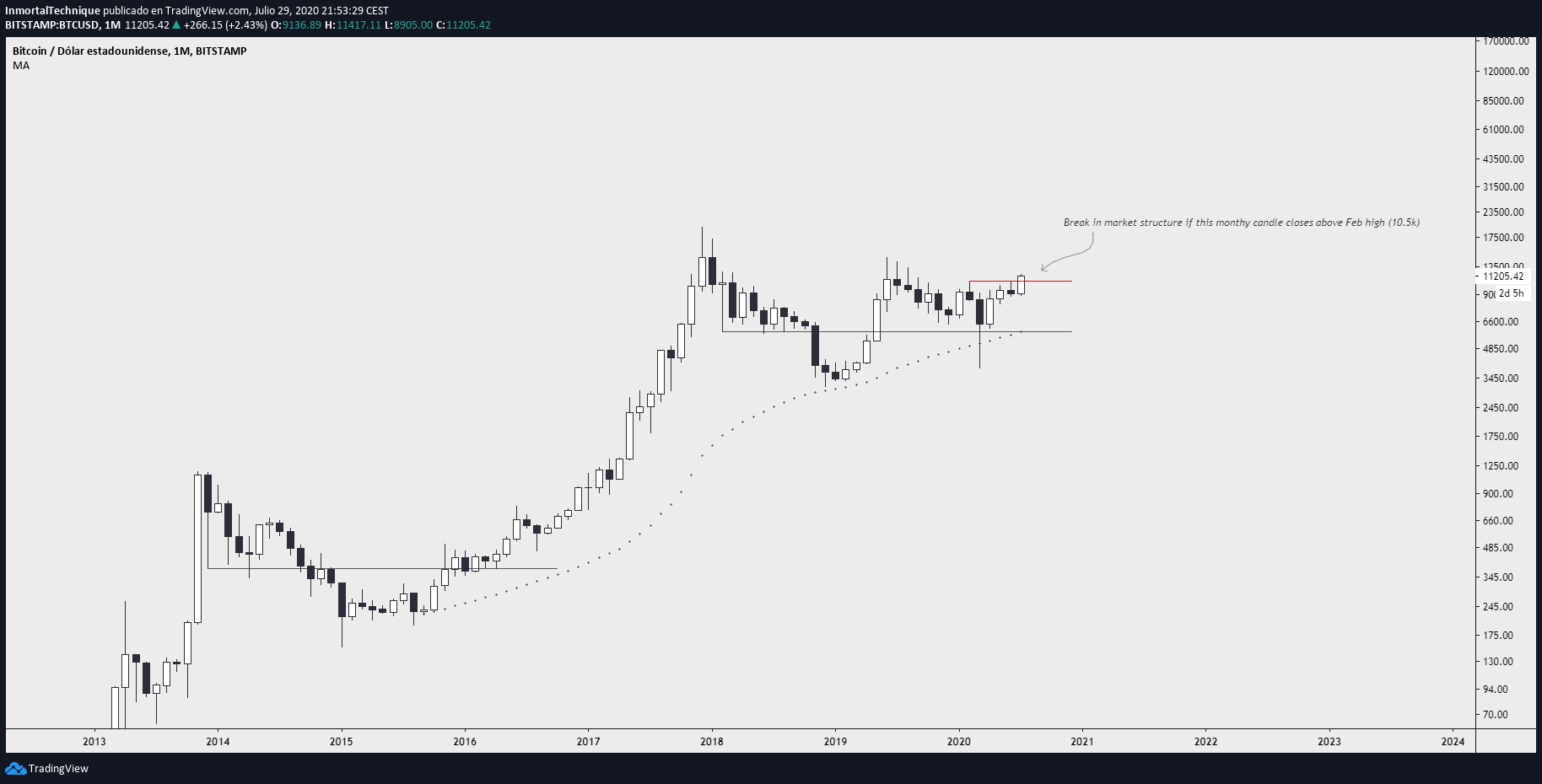 Macro BTC analysis by trader Inmortal Technique (@Inmortalcrypto on Twitter). Chart from TradingView.com
That same trader added that should it do so, there will only be "air from here to $20,000."
This optimism is for good reason: $10,500 has been a level of utmost importance for Bitcoin over the past 12 months.
Most notably, that level marked trend highs on three separate occasions: October 2019, February 2020, and June 2020. Each rejection at that level over the past 12 months led to near-term corrections in excess of 15%.
Top Analysts Think $20,000 in 2020 Is Possible
Although the aforementioned trader may think that $20,000 comes easy for BTC , he did not assign a deadline to his target.
Mike Novogratz, though, says that the leading cryptocurrency could reach this pivotal level this very year.
He told CNBC that Bitcoin will first hit $14,000 in the months ahead, then surge to $20,000 by year-end 2020. The Galaxy Digital chief executive attributed his optimism to the money printing by central banks, which is increasing the adoption of BTC and gold.
"A lot of that retail interest shifted to the story stocks, to the tech stocks, because they were just more fun … Yesterday you saw a lot of money shift back over to gold and bitcoin. There's an adoption game in bitcoin that you don't have in gold. But I like them both."
Other prominent investors have corroborated this prediction, such as Dan Morehead of Pantera Capital and Arthur Hayes of BitMEX.
Featured Image from Deposit Photos
Charts from TradingView.com
Price tags: xbtusd, btcusd, btcusdt
There's "Only Air" From Here to $20,000 For the BTC Price: Analyst