Bitcoin has stagnated in the mid-$11,000s over the past few days despite a surge in the value of altcoins. As of the time of this article's writing, the leading cryptocurrency is trading for $11,700. Although this is a price higher than it was at last week's candle close, there are some that do not believe that more upside is possible.
According to a historically accurate analyst, though, Bitcoin moving to $15,000 by the end of the month is possible. This coincides with the sentiment of other analysts, who have suggested that a move towards the $14,000 region should transpire soon.
Bitcoin Could Hit $15,000 By September: Analyst
Bitcoin's consolidation in the high-$11,000s over the past few days has stumped many analysts.
According to one historically accurate analyst, though, the leading cryptocurrency will soon correct towards $10,500-11,000. He noted that this would satisfy an Elliot Wave analysis he did of Bitcoin's recent price action. Elliot Wave is a type of technical analysis that suggests markets move in predictable waves due to investor psychology.
What he expects to transpire after this drop, though, is a massive explosion higher. His prediction is that Bitcoin could see an "inverse capitulation" event that ends with it breaching $15,000 by the end of August. For context, $15,000 is 28% higher than the current market price of $11,700.
"$BTC update. Sideways correction. Blue & red paths most likely to wrap up consolidation. If red: short hedge the SFP Aug 11/12. Both cases increase long exposure on dip and add on breakout. If thesis correct: extreme momentum and time to start deleveraging."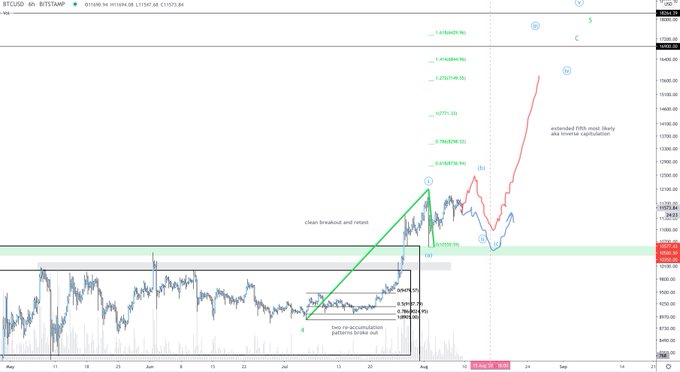 Chart of BTC's recent price action with an analysis by trader "Ethereum Jack" (@BTC_JackSparrow on Twitter). Chart from TradingView.com
The trader that made this analysis has had a scary track record. Along with predicting the ongoing breakout, he said at the March capitulation lows that BTC was going to undergo a V-shaped reversal that ended with the asset at $10,000 by May. He was proven correct when the cryptocurrency surged higher into late May, breaking the pivotal $10,000 resistance.
Other Optimists
The aforementioned trader isn't the only historically accurate analyst expecting Bitcoin to rocket higher in the month or so ahead.
One analyst shared the chart below just last week. It shows that Bitcoin could hit $20,000 in the following two to three months.
"This is not more than 4 months prediction, as I spotted new bullish channel . According to my idea price may reach ATH area in 2 months with following some triangle-like consolidation. For EW lovers – I think price is in starting local III wave with all 3rd-wave-specific bullish drama around. Wave length is around 2 months."
Chart from TradingView.com
This is the same analyst that predicted Bitcoin would bottom in the $3,000s in 2018, then rocket to ~$15,000 by mid-2019, before correcting by the end of that year.
Featured Image from Shutterstock
Price tags: xbtusd, btcusd, btcusdt
Charts from TradingView.com
Scarily Accurate Analyst Thinks Bitcoin Will Hit $15,000 by September