It's been an explosive past few days for the Bitcoin market. Even after a slight correction from the $11,500 highs, the asset remains up nearly 20% in the past seven days alone.
Some analysts are still pricing in a correction, arguing that bulls are overextended here. They cite funding rates, which is the fee that long positions pay short positions in perpetual futures markets to normalize market conditions. Funding rates are currently at highs not seen since previous Bitcoin tops.
Yet a trader is reminding his followers and Crypto Twitter not to get left behind on a macro scale.
Bitcoin Bullish on a Macro Scale, Suggests Pivotal Trend Indicator
According to a chart shared by a crypto trader on July 28th, a crucial trend indicator suggests that Bitcoin will move higher on a macro scale.
The trend indicator is known as the "CM Super Guppy" — and it's had extreme accuracy in predicting macro BTC moves. It recently flipped green on Bitcoin's one-week chart, suggesting the formation of a macro uptrend.
The Super Guppy has trended green on Bitcoin's one-week chart only on a few occasions: once in late-2012, prior to the rally from literal dollars to $1,000; once in late-2015 to preceded the parabolic explosion to $20,000; and once in 2019, before it temporarily turned grey.
Commenting on the importance of the recent signal, the trader who shared the chart below remarked:
"The most bullish asset of the last decade ready to continue the trend. Don't get left behind."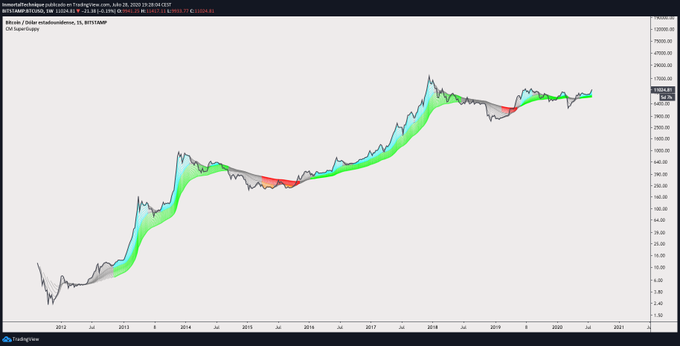 Chart of BTC's macro price action with a technical indicator known as the "Super Guppy" by trader Inmortal technique (@Inmortalcrypto on Twitter). Chart from TradingView.com
Extremely Strong Fundamentals
Corroborating the idea that Bitcoin is entering a longer-term uptrend is fundamental trends.
For one, the vast amount of money printing that is taking place to stop the world from suffering from the effects of the pandemic is expected to be a boon for Bitcoin. Paul Tudor Jones, a billionaire hedge fund manager, commented on Bitcoin in a May note:
"I am not an advocate of Bitcoin ownership in isolation, but do recognize its potential in a period when we have the most unorthodox economic policies in modern history. So, we need to adapt our investment strategy."
There was also recent news that U.S. banks now have the authority to hold cryptographic keys to crypto wallets. That's to say, they can now be custodians to Bitcoin, Ethereum, or other digital assets.
Analysts within the space think this news will be an accelerant for growth in the cryptocurrency industry. Though it is important to note that banks holding cryptocurrency is against the ethos of the industry.
Featured Image from Shutterstock
Price tags: xbtusd, btcusd, btcusdt
Charts from Tradingview.com
"Don't Get Left Behind": Bitcoin Forms Signal Seen Before 2017's 2,000% Rally