The structure of the entire cryptocurrency market has been shifting throughout 2020, with traders placing an increased emphasis on options contracts to capitalize on the volatility seen by Bitcoin and other digital assets.
The options market's influence over Bitcoin's price dynamic is growing by the day, with trading volume on Deribit setting a record high yesterday.
Currently, traders are favoring near-term upside for the benchmark digital asset, as data from the platform reveals that call skew has been increasing. The Call:Puts ratio has also hit 2:1.
Deribit Sees Record High Bitcoin Options Trading Volume
Deribit is currently the leading entity within the Bitcoin options market, accounting for the vast majority of the total daily trading volume seen by this fragment of the market.
According to recent data from the platform, traders appear to be widely turning towards options contracts to trade the volatile cryptocurrency, in lieu of using other popular trading mediums like margin trading.
Deribit explained that BTC's surge past $11,000 yesterday sent trading volume on the platform to a record high. In total, over 50,000 options were traded.
They also noted that there are now 137,000 outstanding contracts with a USD value of $1.5 billion.
"Over 50k options traded yesterday at Deribit, a new record! Open interest in BTC options at all time high, >137k contracts outstanding or USD 1.5 billion."
The vast majority of this trading volume was centered around monthly options.
The data seen below from the analytics platform Skew shows just how fast the Bitcoin options market is growing.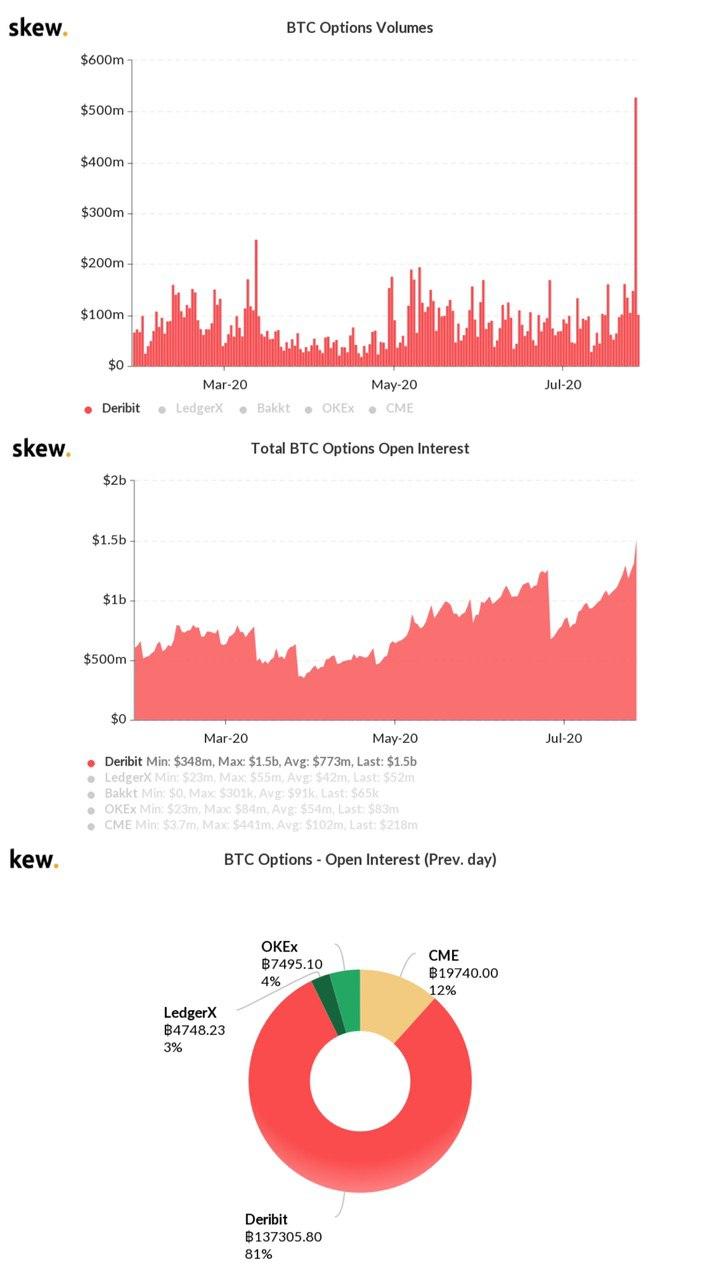 Image Courtesy of Deribit. Data via Skew.
As its size increases, its influence over the cryptocurrency's price dynamic will also grow as well.
Options Traders Widely Bullish on BTC
In a recent thread of tweets, Deribit offered an analysis of the current state of the options market, explaining that upside demand has been forcing shorts to cover their positions.
Concurrently, those with long positions are now rolling their profits into contracts with higher strikes.
"BTC 11k. Vol spikes as Deribit sets 24hr volume record. 1w IV hits 90%+. Call:Puts 2:1. Call skew increases. Upside demand, as shorts are forced to cover and longs roll profits to higher strikes. Put hedging limited, seeing more put sellers attain upside exposure. Open Int up."
This trend will likely persist as long as Bitcoin's price continues flashing signs of strength.
Featured image from Unplash.