While Bitcoin and Ethereum have stagnated over recent days, Chainlink (LINK) has seen a strong uptrend. As reported by NewsBTC previously, the asset set multiple milestones over the past week, pushing past $9, then $10.
Just minutes ago as of the time of this article's writing, the altcoin cracked the $11 resistance level. Chainlink now trades for $11.60 — a price 18.3% higher than it was just 24 hours ago. The chart below from TradingView depicts the explosive price action well.
Chainlink's latest leg higher has made the cryptocurrency the seventh-largest by market capitalization.
Chart of LINK's price action over the past few weeks from TradingView.com
Although the cryptocurrency has seen an extremely strong price performance, not everyone is convinced it will move higher.
Chainlink Pops Past $11—But It May Soon Correct
Chainlink's price action over the past few days has been quite convincing that bulls are in control. But according to the Tom Demark Sequential, the cryptocurrency could soon see a reversal.
The TD Sequential is a time-based indicator that prints "9" and "13" candles at inflection points in the trend of an asset. LINK is currently forming a "sell 9" candle on its charts against Bitcoin and the U.S. dollar. This suggests that a multi-day retracement could follow.
The last three instances of this signal appearing on the asset's chart resulted in multi-day consolidations, before LINK pushed higher.
Chart of LINK's price action over the past few months with a Tom Demark Sequential overlay from a Telegram channel tracking the indicator. Chart from TradingView.com
Commenting on the recent Chainlink price action, one commentator said that he intends on shorting LINK when it reaches $12. He cited how "euphoric" the market is right now, referencing how the cryptocurrency market can (and often has) moved against the majority's sentiment.
"Shorting $12 $LINK cause everyone is euphoric."
Bitcoin Must Hold $10,500 For Altcoin Strength to Persist: Analyst
Although the TD Sequential is expecting the asset to retrace, analysts think altcoins will outperform as long as BTC holds $10,500. As reported by NewsBTC, one trader wrote this week:
"BTC. 11500-11700, then down to test the 10400-10500 support zone, which should hold for a while. Looking for longs above that level and shorts below it. Altcoins should perform very well as long as BTC stays above 10.5k -> $EOS, $XTZ, $XRP, $XLM…"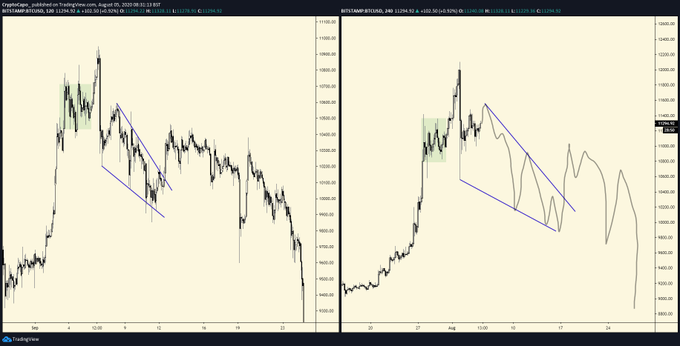 Price chart of BTC price fractal by digital asset trader il Capo of Crypto (@Cryptocapo_ on Twitter). Chart from TradingView.com
With Bitcoin holding the also pivotal $11,500 level into the end of the week (per TradingView), altcoin bulls may have their wish granted for the time being.
Featured Image from Shutterstock
Price tags: linkusd, linkbtc
Charts from TradingView.com
Chainlink Prints Striking Bearish Reversal Signal After Surging to $11