Bitcoin and Ethereum faced strong liquidation events just 12 hours ago. Even still, Chainlink (LINK) has continued to push higher, basically disregarding what was seen as the worst cryptocurrency crash since "Black Thursday."
As can be seen in the Trading View chart below, the popular altcoin has gained just less than 10% in the past 24 hours. That performance makes Chainlink one of the best-performing cryptocurrencies of the past day.
Chart of LINK's price action over the past few days from TradingView.com. Per the chart, LINK is up 8.67% in the past 24 hours, though gained much more from the capitulation lows to the recent highs.
Analysts say that the asset is poised to move even higher despite relative weakness in the market leader, Bitcoin. Here's more on why.
Chainlink Has Room to Rally, Say Analysts
Although LINK has not yet set a new all-time high against the U.S. dollar, it may be poised to print a bullish continuation pattern on its chart. That's according to one cryptocurrency trader, who argued on August 2nd that now is a "good spot" for Chainlink to continue higher:
"$LINK (USDT) daily chart – As price re-tests the all time high area, this is a good spot for a cup and handle continuation, or ascending triangle continuation patterns to form."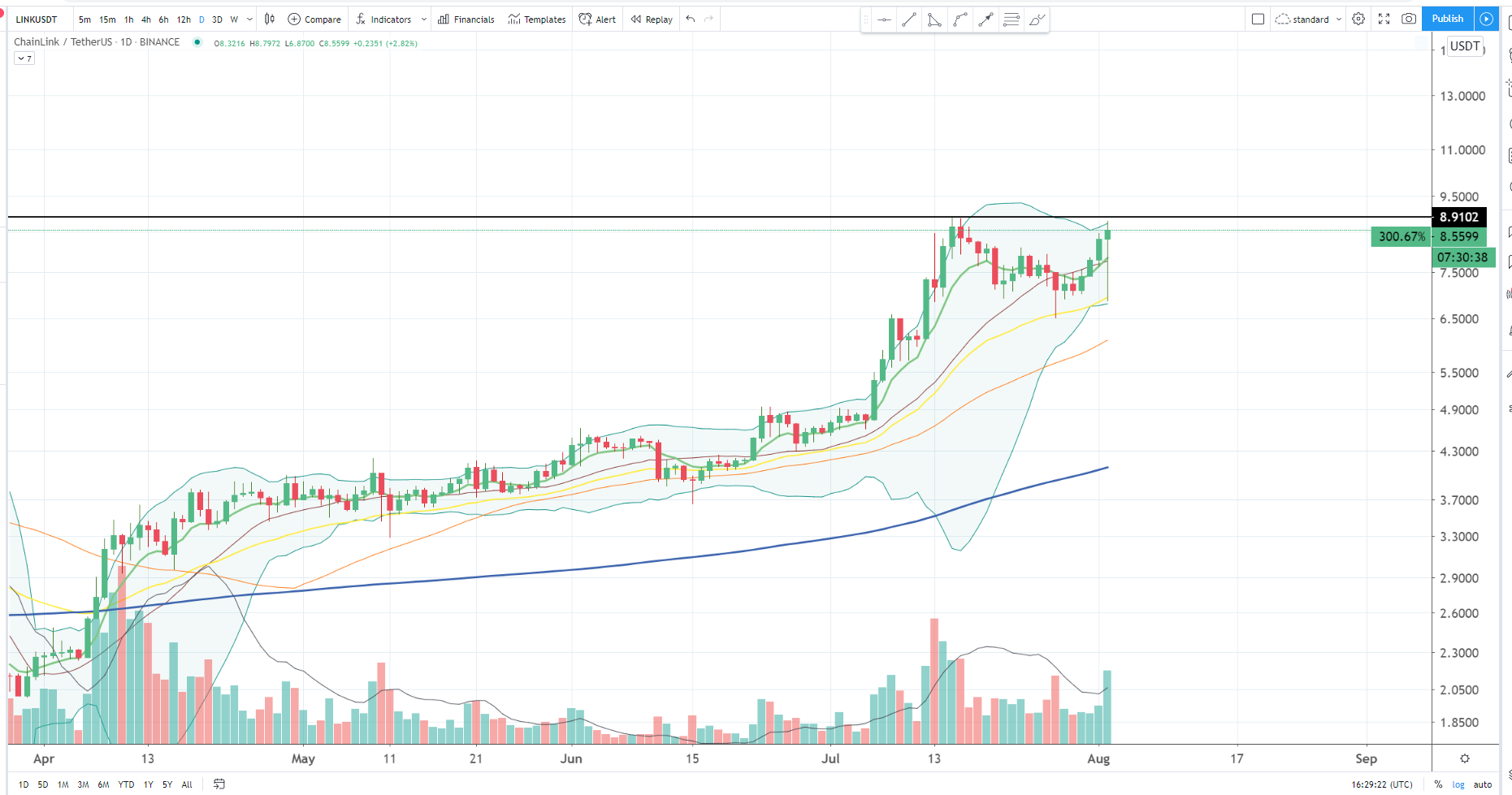 Chart of LINK against Tether's USDT over the past few months by trader "Big Cheds." Chart from TradingView.com
The cryptocurrency has not yet established this pattern, but it moving past its $8.91 all-time high should set the stage for further gains.
This optimism about Chainlink was echoed by Michael Van de Poppe, a trader at the Amsterdam Stock Exchange. The commentator said that he expects capital to flow from Bitcoin and Ethereum to altcoins in the coming "week/weeks."
Chainlink will likely benefit from this, he argued, going as far as to say that LINK will soon test its all-time high against BTC. This will mean that it rallies by at least 20% from current levels.
Zeus Capital Report Has Little Effect
LINK's recent price action comes in spite of the propagation of a report from one "Zeus Capital" that says Chainlink will fall by 99% over time. The report, which was shared on Twitter and to the email addresses of many in the industry, says Chainlink is a scam:
"Behind the shiny facade of the multibillion dollar project we have exposed signs of absolute lack of interest in building the technology, team that is incapable on delivering what is currently reflected in token's market capitalziation and a series of market manipulations and plain lies targeting naive investors."
With LINK rallying close to new all-time highs, though, it appears that the crypto market is rejection Zeus Capital's assertions.
Featured Image from Shutterstock
Price tags: xbtusd, btcusd, btcusdt
Charts from TradingView.com 
Chainlink (LINK) Rips 10% Higher: Why Analysts Say More Upside Is Likely