The Cardano Foundation has unveiled a new-look website as part of its brand repositioning.
This forms part of a company-wide initiative, called Project Renovare, to rebrand Cardano as it moves into the smart contract phase of development.
In a blog post, PR and Communications team member Elliot Hill said the move was more than just updating the look. Rather, it's also part of a strategy to grow the community and drive the adoption of Cardano.
"… it is vital that both Cardano and the Cardano Foundation brand become synonymous with innovation, tenacity, and progress."
In conjunction with design experts McCann Dublin, the idea was to create a more intuitive and user-friendly platform for all things Cardano.
At the same time, the remit was to reposition the brand to take into account the scope of its ambitions. David Nurse, Digital Strategist at McCann Dublin, said:
"There is no doubt that it will take time for blockchain in general to be used and understood by the many rather than the few. But the positioning, creative and framework we have created has built the foundations to allow the Cardano Foundation to do just that."
With the successful launch of the Shelley Mainnet last month, it's exciting times ahead for Cardano investors. In particular, the prospect of staking ADA has the community joyed with anticipation.
The Shelley roadmap shows that staking will go live on August 18th.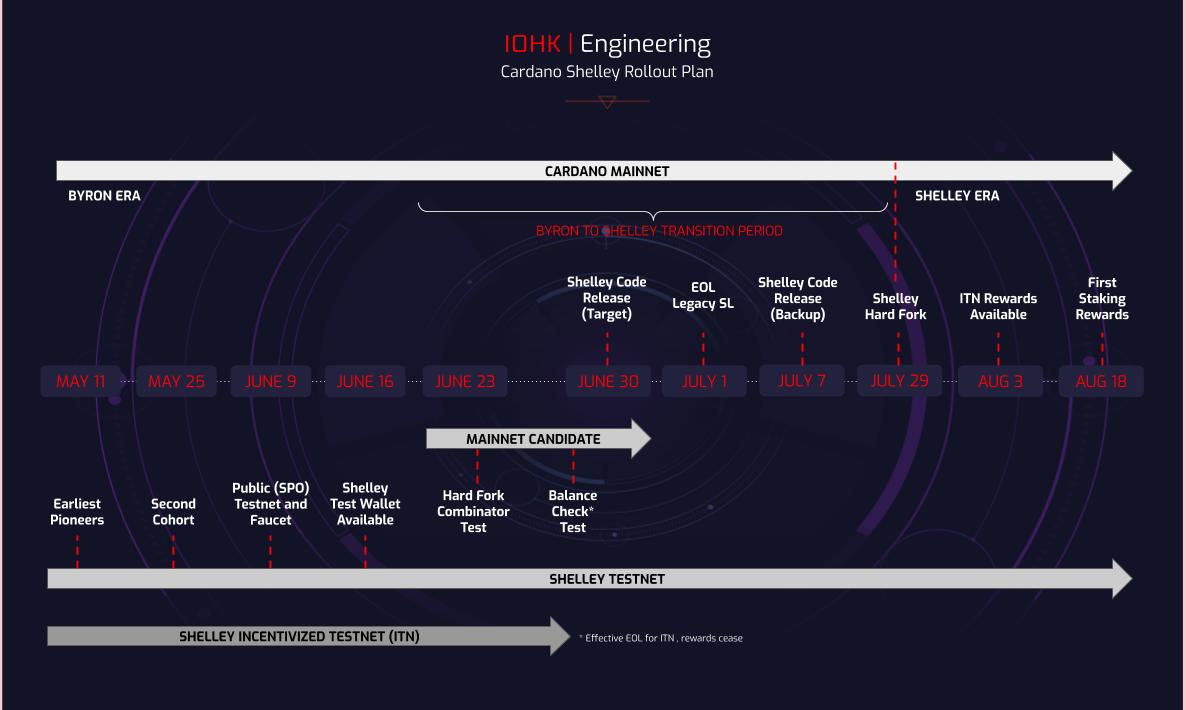 Source: twitter.com
However, the deadline for Incentivized Testnet (ITN) reward payments has passed with no sign of when it will happen.
The latest information from IOHK simply states ITN rewards are not yet redeemable. They go on to say that a Daedulus wallet update will automate the payout. Details on when the wallet update will ship are unknown.
"An upcoming mainnet release of the Daedalus wallet will include a dedicated "Redeem Incentivized Testnet rewards" feature, which will allow the redemption of the ITN rewards to a selected Shelley wallet in Daedalus."
Nonetheless, in the run-up to mainnet staking, IOHK has produced a series of videos on the topic. Today saw the release of the first video in the series, titled "Daedalus: setting yourself up for Shelley."
The video gives viewers a rundown on preparing for Cardano mainnet staking. It shows how to download the latest Daedalus wallet, and how to convert a legacy wallet into a Shelley compatible wallet.
The price of ADA ran up in anticipation of the Shelley launch. As expected, a sell-off followed. ADA has since settled and is currently priced at $0.14.
Cardano daily chart with volume. (Source: tradingview.com)
With less than two weeks to go until staking goes live, all eyes are on Cardano for a successful roll-out.
Tags: adausdADAUSDTCardanoDaedalusProject RenovareStaking