Tezos (XTZ) is breaking out despite stagnation in the prices of Bitcoin, Ethereum, and other leading major cryptocurrencies. The price of the community-favorite altcoin is up 10% in the past 24 hours, surmounting a pivotal resistance in the $3.40 region.
Tezos' ongoing breakout is convincing many analysts that more upside is in the works. Traders have been going as far as to say that the altcoin could literally double in the weeks ahead, citing similar explosive rallies in other altcoins like Chainlink (LINK).
Tezos Could Soon Rip Even Higher: Analysts
Tezos is prepared to rally higher after breaking above the band of technical resistance in the $3.40 region, say a number of analysts.
The head of technical analysis at crypto research firm Blockfyre shared the chart below, showing that XTZ's ongoing breakout is pivotal for bulls.
He went as far as to say that if XTZ could rally upwards of 100% in the upcoming rally should it turn the resistance into support:
"If you missed $LINK price discovery, You're going to love $XTZ price discovery. If you captured Link price discovery. You're going to love compounding with Tezos price discovery. Wouldn't be surprised to see 2-3x during PD."
Chart of XTZ's macro price action with analysis by the head of TA at Blockfyre, Pentoshi (@Pentosh1 on Twitter). Chart from TradingView.com
The expectations of a notable rally have been echoed by another cryptocurrency trader. He shared that XTZ's one-day relative strength index (RSI) is about to break above a five-month downtrend. This breakout is likely to trigger a macro move that will bring the asset above its $4.00 all-time high price.
Bitcoin Needs to Hold Above $10,500 For Altcoins to Outperform
For altcoins to continue their explosive rallies higher, analysts say that Bitcoin must hold above $10,500.
As reported by NewsBTC, one trader noted that Bitcoin holding above the $10,500 will confirm that altcoins can "perform very well":
"BTC. 11500-11700, then down to test the 10400-10500 support zone, which should hold for a while. Looking for longs above that level and shorts below it. Altcoins should perform very well as long as BTC stays above 10.5k -> $EOS, $XTZ, $XRP, $XLM…"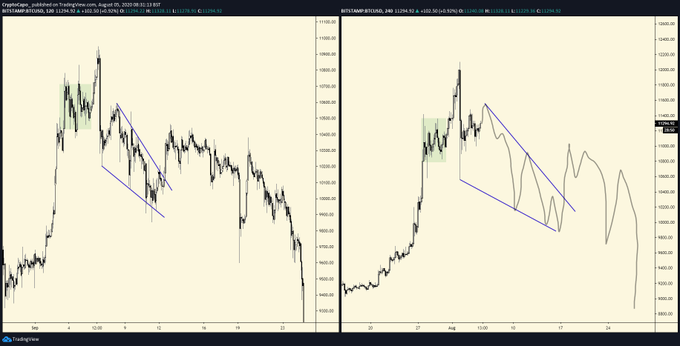 Price chart of BTC fractal by crypto trader il Capo of Crypto (@Cryptocapo_ on Twitter). Chart from TradingView.com
$10,500 has been a pivotal level for Bitcoin bulls for the past year, marking the highs of three separate rallies. The cryptocurrency managing to hold above that level will confirm that BTC has entered a bull phase of this market cycle.
Featured Image from Shutterstock
Price tags: xtzusd, xtzbtc
Charts from TradingView.com
Analysts Expect Parabolic Tezos (XTZ) Rally as Price Surmounts $3.40